Tuesday, August 20, 2019 1:28 AM
North Carolinas first behavioral health unit opens in Charlotte jail
I would like to have something similar implemented in Wake County.
---
Monday, August 12, 2019 1:05 AM
Speech - NC Art Museum - Sean Ingram Academy
---
Sunday, August 11, 2019 11:10 PM
Sheriff Baker - Revista Latina NC
Sheriff Baker discusses Faith ID and not cooperating with ICE (287G).
---
Thursday, August 8, 2019 1:27 AM
Less Than Lethal Option
The BolaWrap™ 100 is a hand-held remote restraint device that discharges an 8 foot bola style Kevlar® tether at 640 feet per second to entangle a subject at a range of 10-25 feet.
---
Monday, August 5, 2019 1:46 AM
RUN. HIDE. FIGHT.
---
Monday, August 5, 2019 1:45 AM
Family Safety Plan
Make sure you develop a safety plan with your family. This includes having a fully charged cell phone, an exit strategy, create a meeting place, be aware of your surroundings, report suspicious activity, place barriers between you and the threat, run or hide, and fight back when necessary.
---
Saturday, July 27, 2019 8:15 PM
Raleigh Police Chief Cassandra Deck-Brown
---
Monday, July 22, 2019 2:30 AM
Speech - Hope Connection International
---
Tuesday, July 2, 2019 1:41 AM
Brave Wake County Employee
---
Thursday, June 20, 2019 7:57 PM
Letter Sent to Senior Welfare Check Program Members
---
Wednesday, June 19, 2019 1:55 AM
Wake County Sheriff Ends Senior Welfare Check Program
---
Monday, June 10, 2019 2:44 AM
ICE - Domestic Dispute - 9 Hour Stand Off
---
Monday, June 10, 2019 1:53 AM
Policy Changes - Tasers
While Law Enforcement is advancing with technology to prevent deadly force encounters, the current Wake County Sheriff is reverting to "batons" and "hand-to-hand combat." This new policy will not only lead to more deadly force encounters, but puts his Deputies at greater risk of injury.
---
Monday, June 10, 2019 1:49 AM
Jail Issues
Shyann Althea Newsome, charged with Assault LEO, Serious Injury, Attempt escape from local Wake County Jail. The abolished DRT team would have quickly responded and helped these officers. Now they are seriously injured as a result of the Wake County Sheriff's policies.
---
Wednesday, May 8, 2019 12:52 AM
Public Safety Concerns
The Wake County Sheriff's office has lost many Veteran officers since the new sheriff took office in December. Some fired, some demoted and others have resigned. Many say the number of officers now working each Patrol shift has decreased by as much as Half of what it was just a few months ago. Several of the deputies that have resigned say the lack of personnel has created both officer and public safety concerns.
---
Sunday, May 5, 2019 4:56 PM
Wake Sheriff Dismantles Detention Response Team
---
Friday, May 3, 2019 1:32 AM
Wake County Sheriff - Accountability?
The Group stated "Sheriff Baker wouldn't have won if not for us, he needs to keep his campaign promises."
---
Friday, May 3, 2019 1:28 AM
Group Issue Demands to Wake County Sheriff
---
Friday, May 3, 2019 1:03 AM
Wake County Sheriff Implements Faith ID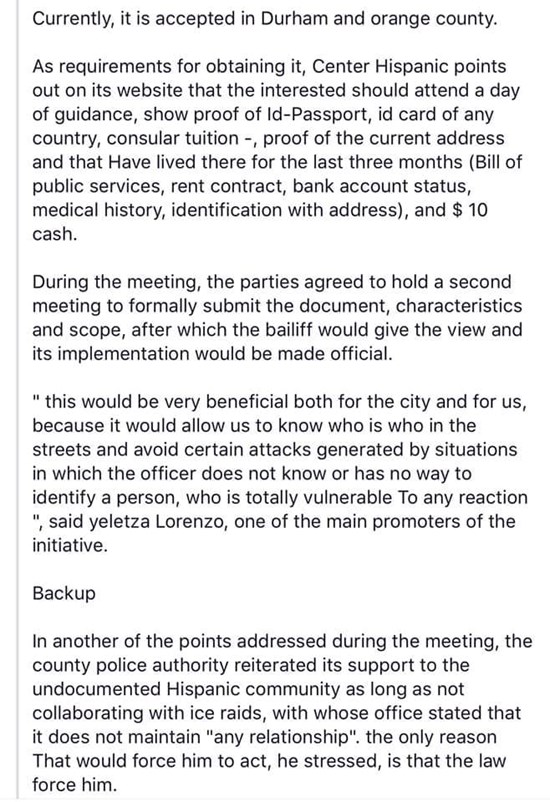 ---
Friday, May 3, 2019 1:01 AM
Misplaced Priorities
---
Monday, April 15, 2019 3:45 PM
---
Saturday, April 13, 2019 10:31 PM
Wake County Sheriff Baker - LGBT Groups React to Anti-Gay Comments
---
Saturday, April 13, 2019 9:05 PM
---
Thursday, April 11, 2019 4:05 PM
Wake County Sheriff - Officer Safety
---
Sunday, April 7, 2019 6:49 PM
Wake County Sheriff - Memorandum
---
Friday, February 8, 2019 3:39 PM
ICE defends NC raids, saying Sheriffs releasing dangerous individuals
---
Thursday, January 24, 2019 7:41 PM
Former Deputy Wants Clarity
---
Monday, January 21, 2019 11:44 PM
Wake Sheriff Discusses Staff Changes
---
Tuesday, January 15, 2019 8:44 PM
Wake County Fraternal Order of Police Statement
---
Tuesday, January 15, 2019 8:16 PM
Whistle Blowers
---
Sunday, January 13, 2019 5:06 PM
Wake County Sheriff - Staff Changes
---
Monday, January 7, 2019 10:50 PM
Wake County Sheriff Defends Controversial Promotion
---
Monday, January 7, 2019 10:47 PM
Wake County Sheriff's Office - Fires, Demotes, & Transfers Employees
---
Monday, January 7, 2019 10:44 PM
Wake County Fraternal Order of Police - Press Statement